Together With You
Please hear our heartfelt thank you. Your valued friendship and support breathes strength and endurance into our leadership, staff and volunteers, as we serve our neighbors South of the Fraser.
Together, with you, we are Building Community and Inspiring Hope!
We've put together a few updates for you so you can know where things are at, what's happening, and what is coming up! Thank you again for supporting our communities with us.

@Habitat – Affordable Housing Build Update
Things only get more exciting as they continue to move along and take shape! We are on schedule to be "move-in" ready in Fall 2023 at 81st and King George Blvd. in Surrey. Our friends at New Commons Development say that construction is going well – the roofing and windows are now complete, and the mechanical and electrical work is in progress.
Again, thank you to those who donated to our 2021 Women of Options' affordable housing campaign; you will be making a difference in over 100 lives of women fleeing violence, youth at risk, seniors, students, and others facing barriers in finding decent and affordable accommodation.

Women of Options 2022 Gamechangers Campaign
In 2022, we launched our second Women of Options campaign to raise $1.5 million towards a fund to help vulnerable young people in our communities with the assistance they need, when they need it.
Many of the young people we serve have unique needs that don't fit criteria for government or other established resources and support. They are resilient, but those who are disadvantaged and marginalized are often missing basic support that most of us take for granted. They need someone to shift the narrative from "what could have been" to "what is". What they need is a Gamechanger! A friendly face and a little financial support at the right moment, in the right way, can change a life.
Donations to the Youth Gamechangers Fund (YGF) give frontline staff (who know the youth of our communities the best) the additional tools they need to help these young people succeed, providing them with opportunities that they cannot otherwise access – opportunities they need to achieve the safety, security, and potential that many of us take for granted for our children.
We anticipate that the $1.5 million we are raising will provide a base of reliable financial support to address critical needs for youth in a timely manner for the next 10 years. We are just over half way there!
To give, or to learn more about this initiative, please visit Women of Options – Youth Gamechangers Fund.

On September 16th we held our first gala at the Sheraton Guildford Hotel. It was a wonderful event attended by 320 guests, including many of the 2021 and 2022 Women of Options.
The evening included an art sale, a wonderful welcome from Michael Kelly-Gabriel of Kwantlen First Nation and family, live entertainment by Kirti Arneja, a 50/50 draw, a live auction that included a return business class ticket to Italy, hot mini electric cars for kids, and much more, a door prize of an all-inclusive trip to Mexico, and of course dining and dancing!
Many folks gave generously, including Dave and Isabelle Hayer who donated the $2,000 they won in the 50/50 draw back to the Youth Gamechangers Fund, and thank you to Anoop and Neera Khosla who are contributing generously over a number of years to the fund through their Foundation.
It was such a pleasure to enjoy the evening with folks who care so much about our communities.

Grab Your Hat, Your Boots and Your Tickets!
Just when you thought the fun was done! Our friends at Abbotsford Canucks have set aside a section of seats for us at their Country Western night on November 12th, at the Abbotsford Centre. To top it off – our own Women of Options Gamechanger, Karen Lee Batten, will also be performing on-site throughout the evening.
Tickets are $30 each, with the Youth Gamechangers Fund receiving a portion of our ticket proceeds. QR code and contact details for tickets below.
Grab your family and friends for a FUN night out in support of local youth!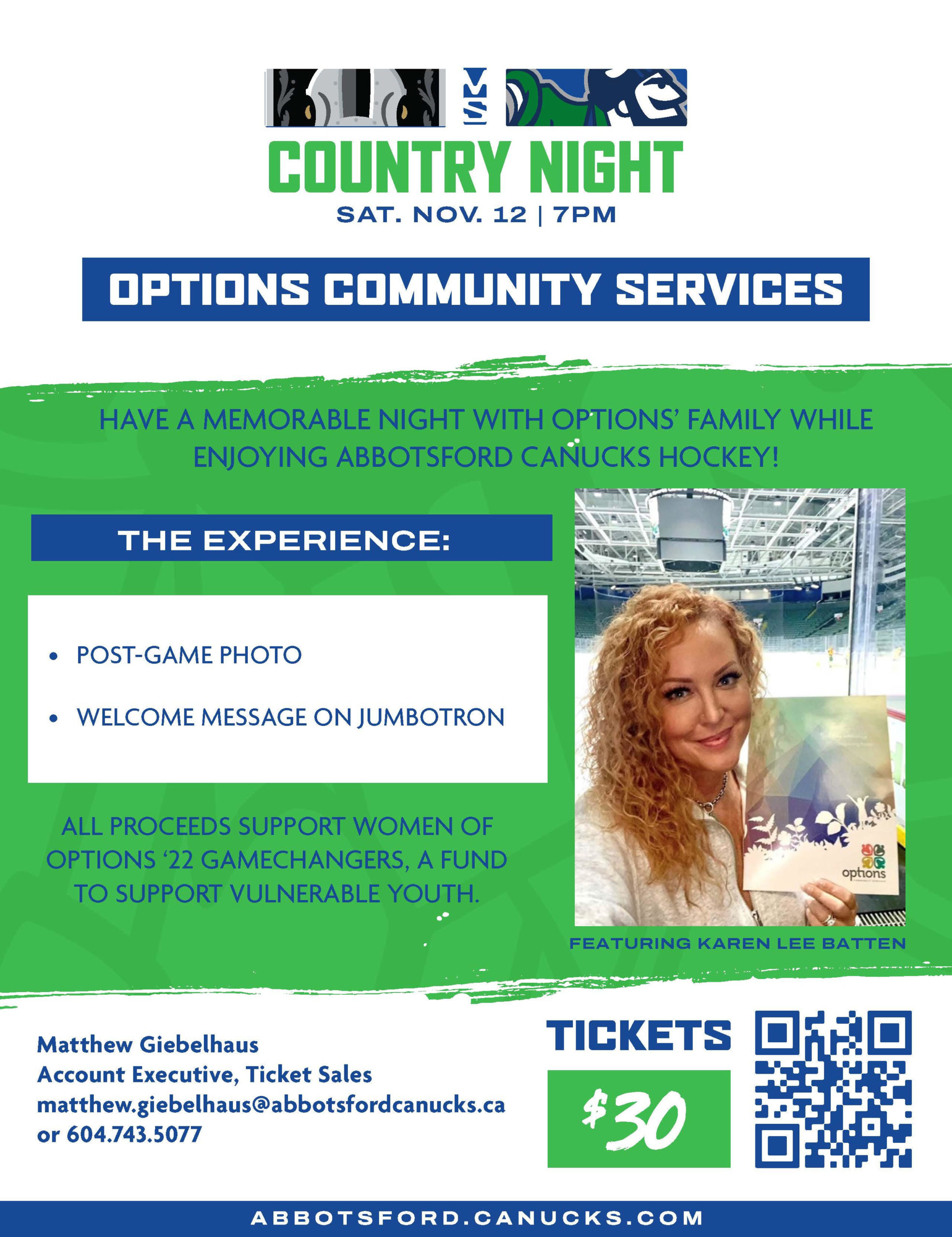 Women of Options Art Sale Continues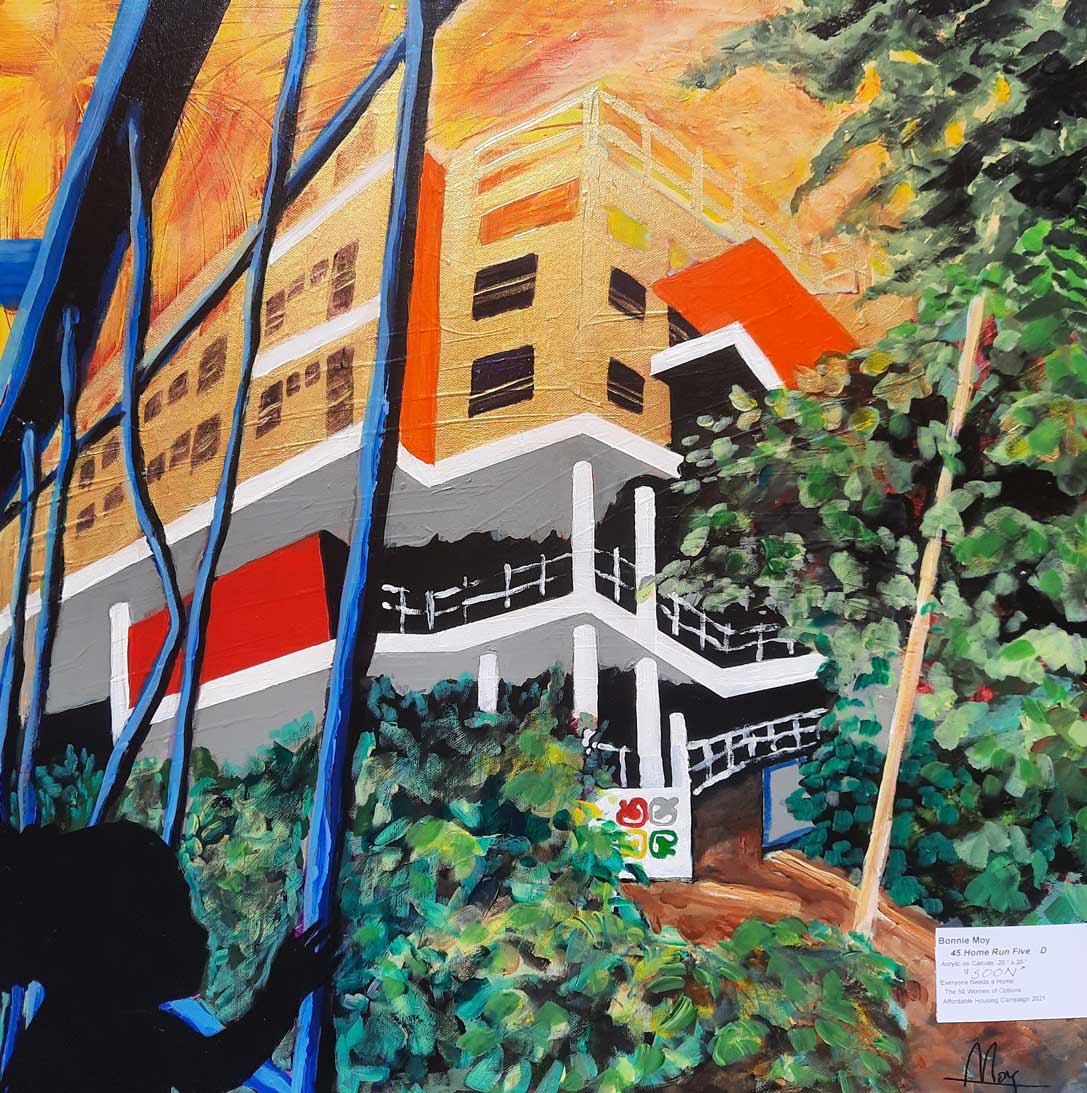 Own a hand painted piece of art inspired by and in support of our Options Affordable Housing Campaign! Artist and Woman of Options, Bonnie Moy, and a group of her fellow talented artists have created a collection of paintings of local landscapes, events and more.
Paintings are available for purchase with proceeds going to support the work of Options Community Services and the communities we serve.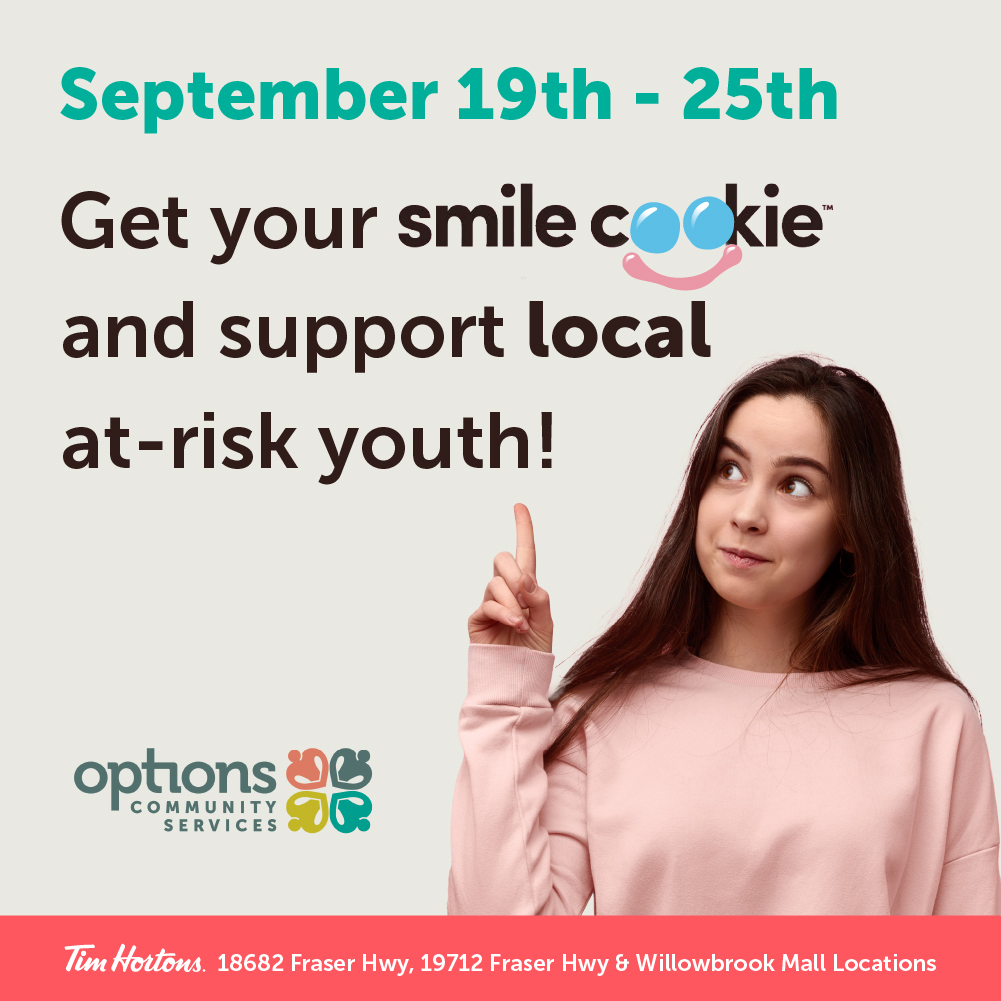 Our Youth Gamechangers Fund was honored to be the selected recipient of 100% of the profits of the 2022 Smile Cookie campaign for three local Tim Horton's.
"The real magic behind the Smile Cookie campaign is the local impact that we can realize with groups like Options Community Services who serve the same communities that we do," – Greg McAuley.
Together, we sold over 5600 cookies! Thank you Greg and McAuley Ventures, for your partnership, and for demonstrating how a local business can collaborate to make a difference at home.